5 Reasons to Consider a Career in Occupational Therapy
Are you thinking of pursuing a career in occupational therapy but you're wondering if it's the right career path for you? Just like any health care career, occupational therapy has its advantages. You have the option to pursue different levels of occupational therapy careers by becoming an Occupational Therapist (OT) or Certified Occupational Therapist Assistant (COTA).
Occupational therapists are responsible for evaluating patients and creating unique care plans, while COTAs work under their supervision to assist in carrying out the necessary care plan during the patient's rehab stay. To learn more about what an occupational therapy career involves, click here, and to learn more about being a COTA click here.
Here are five great reasons to choose a career in occupational therapy.
You can help patients improve their quality of life.
Our clinicians at Cornerstone Rehab provide care to older adults in skilled nursing facilities. Patients may be needing rehabilitation for various reasons including age, injury or illness. Helping patients overcome their limitations to live as independently as possible can be incredibly rewarding and fulfilling.
You can work with a range of conditions.
As an occupational therapist, you have the opportunity to work with patients who present with different conditions. This could be due to surgery, an illness or even age. Some of these conditions could include:
Bone fractures, surgery or injuries
Stroke
Arthritis or chronic pain
Cognitive and sensory deficits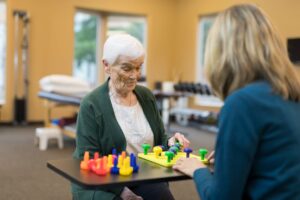 An occupational therapist may also assist with the following:
Fall prevention
Home and living space modifications
Retraining and/or improvement with ADLs and IADLs
Fitting patients with adaptive equipment
As a clinician, you will have the opportunity to help patients heal from these conditions and more, returning them to a more independent lifestyle. This allows you to diversify your tasks and health care plans depending on the patient's needs.
You can develop close relationships with patients.
Our clinicians provide rehabilitation therapy to patients in skilled nursing facilities, and clinicians may form bonds with their patients. Patients who experience improvement in their health are often grateful to their therapists for helping them regain independence. Occupational therapists may also form good relationships with family members who are actively involved in the health care plans of their loved ones. Patients and families are appreciative of the care our clinicians provide, and this can be very rewarding for a therapist.
You can execute unique solutions.
Each patient receives a health plan that is tailored to their clinical needs. As an OT or COTA, you will provide care that helps address different problems a patient may present. This allows you to work with different solutions for different patients. This can be accomplished through the use of adaptive equipment, custom orthotics, manual therapy or even new technologies.
Occupational therapy is a stable career.
Occupational therapy is a career that continues to grow, and job opportunities are readily available. The job outlook is expected to grow by 14% through 2031, according to the U.S. Bureau of Labor Statistics. Additionally, about 18,600 OT jobs may be added. As a health care profession, it is a stable career option.
Learn more about the advantages of pursuing a career in occupational therapy here.
Cornerstone Rehab has career opportunities for occupational therapists, and you can make a difference in the lives of our patients. For a complete list of career opportunities at CSR click here.
In honor of Occupational Therapy Month, learn how occupational therapy began. Read the history of the OT field here.