The Importance of Therapy after a Brain Injury
March is Brain Injury Awareness Month.
Brain injuries can be very complex, and no two brain injuries are exactly the same. According to the Brain Injury Association of America, an acquired brain injury is one that happens in the course of someone's lifetime, and it is not congenital or induced by trauma during birth. These types of brain injuries can be common in older adults.
Acquired brain injuries can be traumatic or non-traumatic. Examples of traumatic (TBI) can include falls and motor vehicle accidents, and it can result in severe damage to the brain. If the skull is broken due to an object, it is classified as a "penetrating head injury," whereas if the skull isn't broken, it is labeled as a "closed head injury." Non-traumatic brain injuries can include stroke, meningitis, encephalitis, seizure, tumors and lack of oxygen, among other things. 
According to the Centers for Disease Control and Prevention (CDC), "there were approximately 223,135 TBI-related hospitalizations in 2019. People age 75 years and older had the highest numbers and rates of TBI-related hospitalizations and deaths. This age group accounts for about 32% (over 71,000) of TBI-related hospitalizations and 28% of TBI-related deaths. Males were nearly two times more likely to be hospitalized."
After a traumatic brain injury, an individual may experience a wide range of symptoms including confusion, headaches, slurred speech, dizziness and more. Brain injuries can affect a person's ability to perform basic activities of daily living and can minimize brain function, which affects other areas such as speech, cognition and mobility. 
Therapy after a brain injury
After a brain injury, a patient will most likely need extensive therapy to perform activities of daily living (ADLs) and hopefully return home. There are several rehab options based on the patient's needs and type of injury.  Rehabilitation is a critical part of the recovery process since it helps patients to "re-learn" the things they were able to do before the brain was injured and to compensate for abilities that have been lost. Rehab can be offered in different settings, depending on the type of therapy needed and the level of acuity.
When a hospitalized patient is stable enough, their physician may start them on a therapy program. Acute rehab may be offered in the hospital (inpatient) setting very early in the process. This may be followed by post-acute rehab, which occurs when the patient is well enough to leave the acute setting. Patients may undergo up to three hours of therapy per day in post-acute rehab.Sub-acute rehabilitation is usually offered in a skilled nursing facility setting to offer rehab services over a longer period over time.
This type of therapy can be critical in a patient's recovery before returning home, and it could play a major role in reducing hospital readmissions and falls after a brain injury. Outpatient therapy may also be offered for those who need to continue therapy but do not need a high acuity setting. 
Cornerstone Rehab provides therapy services in skilled nursing facilities. Patients will work with an interdisciplinary team to complete their recovery, which could include three clinical disciplines provided by Cornerstone Rehab.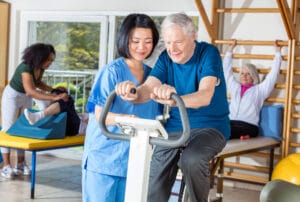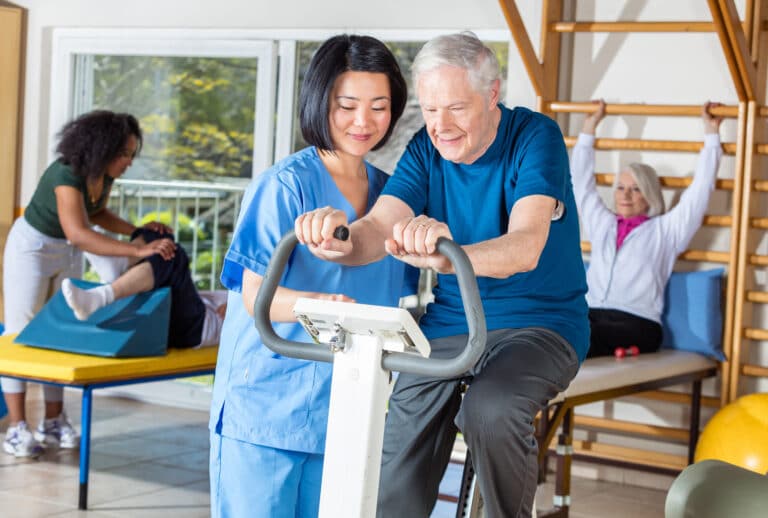 What does an Occupational Therapist do?
Occupational therapists (OTs) assist patients with re-learning activities of daily living (ADLs) to obtain the highest level of functioning. They may assist with daily activities such as eating, grooming, bathing, getting dressed and going to the bathroom. OTs can also work on cognitive skills for managing money, taking care of the home, and re-learning socialization skills. Some OTs can assist with a "home visit" to make sure that a returning patient is safe at home without serious risk of falling. OTs can also step in when providing necessary evaluations and they can assess a patient for adaptive equipment.  A Certified Occupational Therapy Assistant (COTA) may assist in therapy while the OT oversees them. In addition, some OTs may specialize in hand therapy and work with a patient's dexterity after an injury.
What does a Physical Therapist do?
Physical Therapists (PTs) play a critical role in helping a patient with their physical function, which includes muscle strength, endurance, balance, coordination and flexibility. For an older adult, these rehab services are important for walking, standing, sitting and getting on and off the toilet. Physical therapists can range in years of education, and they may be assisted by a Physical Therapy Assistant (PTA) in the process. PTs can evaluate and treat patients and will report back to the physician with progress.  Physical therapists and PTAs are also trained in the use of modalities such as TENS (transcutaneous electrical nerve stimulation), electrical [muscle] stimulation, heat/cold and ultrasound, which can help with a patient's recovery.  
What does a Speech Therapist do?
Speech-Language Pathologists (SLPs) assist brain injury patients with forms of communication such as speech or writing, and they evaluate a person based on their ability to comprehend what they see and hear. SLPs train patients with adaptive technology so they can communicate. SLPs may also work with older adults with dysphagia, often after a stroke.  If a patient is unable to swallow or may aspirate while eating or drinking, this therapy is critical.  
After a brain injury, rehabilitation, including physical, occupational and speech therapy, are necessary for recovery. Cornerstone Rehab clinicians are skilled to provide these rehabilitation services to older adults in skilled nursing settings.
From improving function to treating physical problems, rehab helps individuals recover in numerous ways. In addition, rehab can also help prevent complications caused by traumatic brain injury including pressure ulcers, pain, muscle weakness, blood clots and more.
Each care plan is carefully tailored for each individual, depending on their needs and physical ability. After a thorough assessment, rehab therapists are able to design a plan as needed. In an assessment, therapists may observe strength, coordination, speech ability and more. The length of each plan varies depending on the individual and their recovery process. Some may need therapy services for a few weeks, while others may have to make a life-long commitment.
Cornerstone Rehab

is hiring talented, experienced therapists.  Click

here

for more info. 
Many people with brain injuries have their lives defined for them. The #MoreThanMyBrainInjury campaign gives individuals a chance to overcome those boundaries, allowing them to tell their own stories and change the course of their lives.