The Need for Physical Therapy and Why it's a Rewarding Career
Many ask "Is physical therapy a good career?" The answer is "yes" and it's both rewarding and necessary, and it's a growing field with a lot of opportunity.
Physical therapy can benefit individuals in numerous ways. Recovering from surgery and injuries, improving mobility, reducing pain, and stroke recovery can be some of the many reasons why an individual may need physical therapy.
Physical therapists and physical therapy assistants work closely with patients and families to create a personalized treatment plan that meets the needs of the patient. Treatment plans may include exercises, education and hands-on care to help improve mobility in order to promote independence.
Physical therapy has many benefits. Here are four reasons why someone may need physical therapy:
Mobility: With increased age, seniors may have trouble standing or walking. Physical therapy can help restore muscle strength and allow patients to be mobile once again. Additionally, through education, therapists can teach seniors how to use canes, wheelchairs and crutches properly.

Surgery or stroke recovery: An individual who has had surgery or has suffered from a stroke can experience loss or limitations in mobility. Physical therapy can help patients regain balance and strength. Therapists can teach patients how to regain movement for daily functions including getting out of bed, bathing and dressing. The goal is also to regain independence while promoting healthy and safe living.

Prevent falls: As one ages, there is an increased risk of having a fall. Falls can be dangerous for seniors as the impact can cause fractures, and recovery may be prolonged. Physical therapists and assistants can provide customized exercises that mimic real-life situations to help improve balance. Not only does this educate the patient on how to prevent falls, but it also prepares them if it occurs.

Pain: Therapeutic exercises can help reduce or eliminate pain. With appropriate exercises, muscle and joint function can be restored to help alleviate pain. Physical therapists and assistants can achieve this through manual exercises, ultrasound, taping or electrical stimulation. Patient education can also include learning techniques that will prevent triggers that cause pain.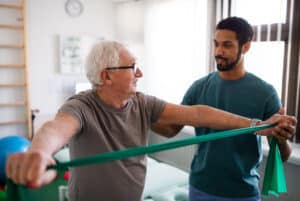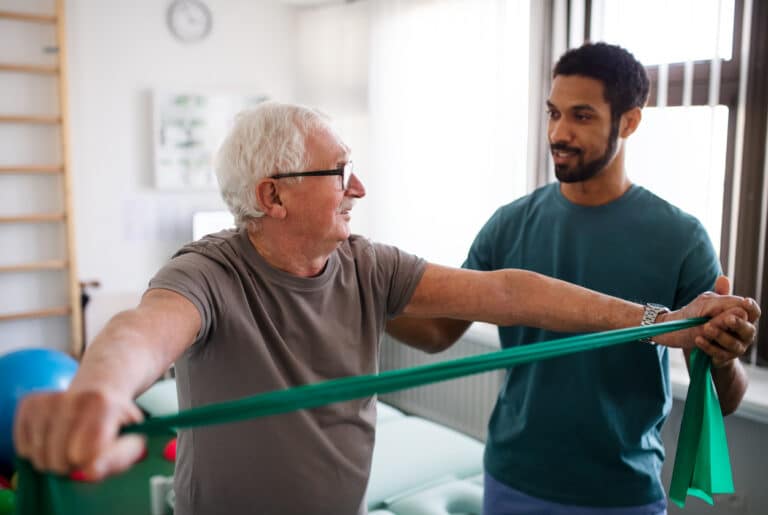 Clinicians of Cornerstone Rehab provide physical therapy in skilled nursing settings facilitating the many benefits of rehabilitation therapy. Physical therapists and assistants play a vital role in offering this care. And such clinicians are in great demand.
If helping individuals interests you then physical therapy may be the right career for you. As a physical therapist or assistant, you can help patients regain movement, recover from injuries and surgeries, prevent future injuries and more.
Here are some reasons why you should consider physical therapy as a career.
It's rewarding. Being a physical therapist or physical therapist assistant can be a rewarding experience. Helping those who are dependent on others can be fulfilling. Helping them regain independence allows you to work with a purpose and also receive incredible gratitude from the patients. Loss of mobility with old age can cause seniors to feel isolated and depressed. Helping them regain movement also improves their emotional and psychological well-being.
It's fast-growing. Physical therapy is a high-demand career which has great potential for growth. Physical therapist and physical therapist assistant positions have a positive outlook in future years. According to the U.S. Bureau of Labor Statistics, an additional 47,000 physical therapist jobs will be added from 2019 to 2029. Additionally, The U.S. News and World Report ranked physical therapist assistant as #9 in the "Best Healthcare Support Jobs."  Unemployment rates for this career are also low at 1.3%. Clinicians of Cornerstone Rehab specialize in working with the geriatric population in skilled nursing facilities. As the boomer population ages, many will require care in long-term care settings. There will be an ongoing need for physical therapists in skilled nursing facilities.
You will have great benefits. As a clinician of Cornerstone Rehab, you will receive many benefits including competitive pay, medical, dental and vision health plans, and paid time off. Additionally, CSR offers a 401k plan as well as short-term and long-term disability, and life insurance. You may also be eligible for state license reimbursement. At CSR, we are committed to your growth as clinicians. CSR offers assistance as you pursue further education and opportunity for career advancement.