Should I Consider Becoming a Physical Therapist Assistant?
Physical therapist assistants or PTAs work closely with physical therapists to help provide rehabilitation therapy to those in need. Is this a career that interests you? Should you pursue this field? We can offer some insight if you are considering this rewarding career.
What do Physical Therapist Assistants do?
The primary role of physical therapist assistants is to help individuals regain their ability to move. They work under the supervision of physical therapists and help carry out treatment plans so patients can regain their range of motion and manage pain. Learn more what Physical Therapists do here.
Cornerstone Rehab clinicians work with older adults in skilled nursing facilities. Individuals in these facilities may need therapy for a number of reasons including illness, surgery or old age. With different exercises, techniques and massage, PTAs can help patients better manage their diagnoses. The physical therapist is responsible for creating a health care plan specific to the needs of the patient. PTAs help execute the treatment plan and keep data and records accordingly. Since PTAs work closely with the patient, they also provide feedback to the physical therapist on what may or may not be helping the patient. Additionally, the PTA can communicate progress to the patient's family members and address any concerns.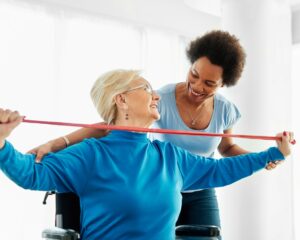 How do I become a PTA?
In order to work as a physical therapist assistant, you have to obtain an associate degree from an accredited PTA program. The program is usually two years long and is comprised of about 75% in-classroom education and 25% clinical education. After completion of the program, you have to pass a state administered national exam to obtain a license to practice.
Why should I become a PTA?
Being a PTA can be a rewarding. It is projected that the demand for PTAs will increase in the upcoming years due to the rising population of the baby boomer generation as they age. It is believed that their need for physical rehabilitation therapy will increase accordingly with their health conditions. Physical therapist assistants have a bright career outlook.
Second, it's a very rewarding career choice. As a physical therapist assistant, you will be helping individuals regain independence. Helping others improve their quality of life can be a rewarding experience. As PTA you will support and encourage patients and families as they progress with their treatment plans. As a PTA, your career will have a purpose and with hard work you will be able to fulfill it.
Clinicians of Cornerstone Rehab are committed to providing high quality care to our patients.
If you feel that this is the right career for you, CSR can offer job opportunities and competitive benefits. Learn how you can join our team here.